News and Media
Dr. Hahn and Dr. Coimbra Successfully Remove Acoustic Neuroma and Save a WoMan's Smile!
Published Friday, November 2, 2018
I would highly recommend Dr. Hahn and Dr. Coimbra to anyone diagnosed with an acoustic neuroma seeking surgical intervention. Dr. Hahn is very personable, professional and thorough in his approach to a comprehensive treatment plan for patients with this type of tumor.
Read the full story from diagnosis, surgery, to recovery!
---
Our Doctors See Increase in Ear Tumor Cases
Published Friday, Apr 6, 2018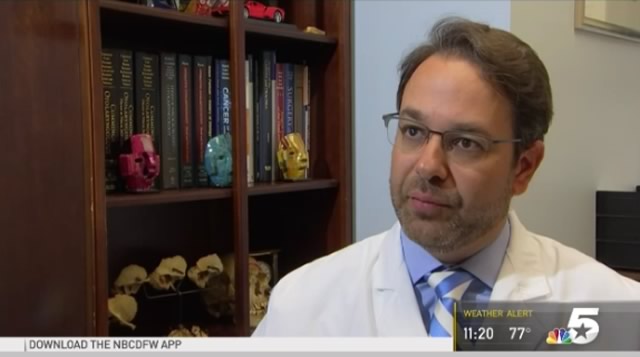 Hearing loss can be caused by a number of things, but don't assume it just comes with old age. Doctors say they're seeing more and more cases of ear tumors called acoustic neuroma.
---

Dr. Yoav Hahn has been recognized in D Magazine's Best Doctors
D Magazine's is confidential poll that sent to about 6,000 local doctors in several specialties. About 2,000 of those surveyed were general practitioners, internists, and family practice physicians—those who typically make recommendations and referrals. We asked them to name two doctors they would send their patients or loved ones to in each of the 39 specialties. We also made the ballot available online at www.dmagazine.com so doctors not included in our polling could vote. Only those with a valid Texas medical license were eligible.